Hello!
My name is Bex, and I'm a betta keeper (and hopefully breeder in the near future) with a new addiction to wild bettas!
I currently have 16 domestic bettas of different varieties, most of whom are breeder rejects and walmart rescues.
Ever since I found out that there were still wild bettas, I've been interested in wild splendens, but when my fiance and I went to buy a pair, it didn't pan out, and we ended up getting Mahachais instead, due to their small home range and the concern for their species that I had heard about. They arrived last Monday, and I'm already enamored! I'm really hoping to meet up with other Mahachai keepers and learn as much as I can about this awesome species! (that's my male "Kheiyw" in my avatar!)
I've also been hoping to start on a line of greens, but I recently lost the female HMPK who I was going to use to start that line, and the blue and yellow HM girl who I was going to use for the longfinned version, so I'm back to square one on that, I have a copper "monster" giant HMPK male, and a "green" HM male still to figure out what to do with.
When I'm not pulling water changes on my assortment of fish and frogs or chasing my toddler, I'm hand sewing fleece plushes; I've made dogs, cats, horses, goldfish, birds, rabbits, frogs, geckos, tadpoles, and even bettas.
This one is my current favorite, he lives on top of the cabinet where my males and wild pair, and dwarf frog live, he's supposed to be a wild splendens.: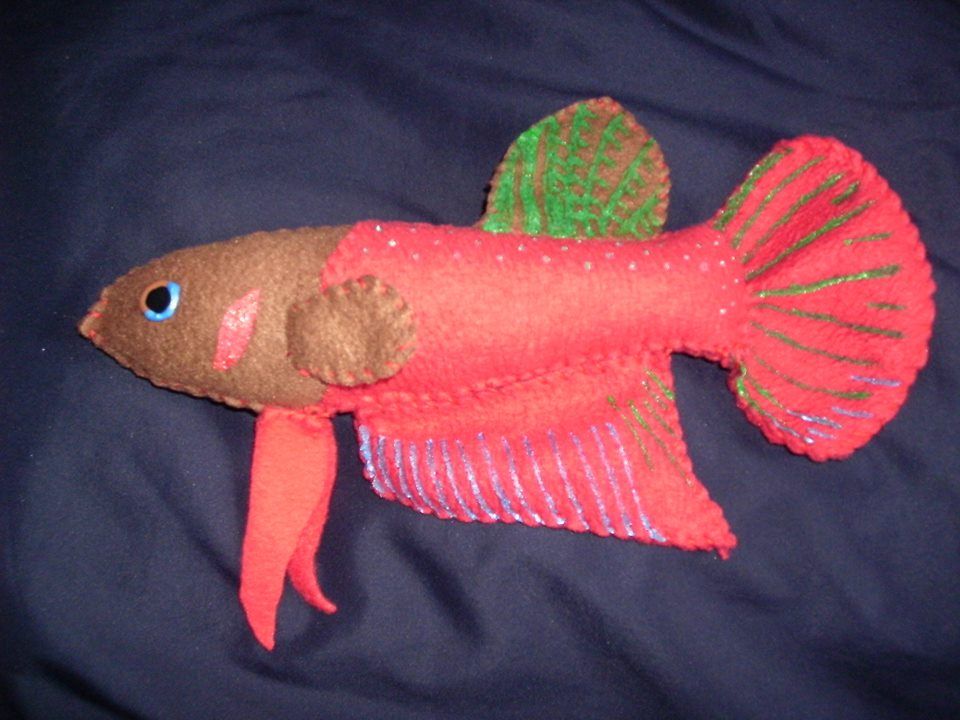 Anyways, I'm really glad to be here!